Background or Customer Profile
A most-awaited turnkey project for services defence optical fiber network to monitor activities 24*7 using GIS and network monitoring telecom equipment for data theft, intrusion, and fiber cut. This project enhanced the network availability capabilities of the Indian Defence Forces and led to improved network-centric warfare capabilities.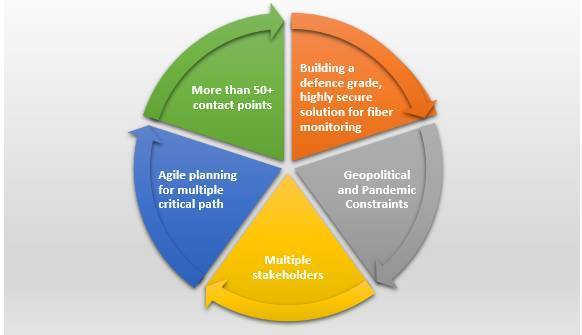 The Challenge
During this project, the HFCL team covered the entire country from Ladakh in North to Tamil Nadu in South and from Rajasthan in West to Arunachal Pradesh in East. The critical part of this area was already covered by approx. 57,000 km of fiber, laid down earlier.
HFCL team embarked on a journey to work under extreme weather conditions from -30C to 50C and high-altitude sites (8000m AMSL) with low oxygen levels. These kinds of harsh environmental conditions challenged both the mental and physical endurance of the team who had to survive with limited accessibility and food supplies.
HFCL Solution
HFCL provided state-of-the-art technology to integrate fiber network monitoring equipment with Geographical Information System (GIS) to deliver an intrusion-proof network. Geographical Information System (GIS)-based optical fiber network management is a fully integrated Fiber Network Management System with a GIS underlay to manage a PAN India tri-service Network. The solution seamlessly integrated GIS, Optical Test Unit, automatic FDMS-based Remotely Managed Optical Patch Panel as well as Intrusion-Proof Systems and their EMS to the overall NMS. It covers the Pan India defence optical fiber network by 6 Regional, 1 National, and 1 Disaster recovery NOC.
To overcome project-related challenges, our team came up with out-of-the-box solutions. One such solution has been to devise ways to maintain the ambient room temperature at 21C even when the outside temperature was as low as -30C as the work could not be stopped till the snow melted.
The diagram depicts how the solution works:
The system has aided in preventing data theft, and intrusion in the network by giving the early alarm to alert tri-services.
The system will reduce the mean time to repair (MTTR) and help in identifying the accurate fault location using GIS and satellite data to ensure the high availability of the tri-services fiber network.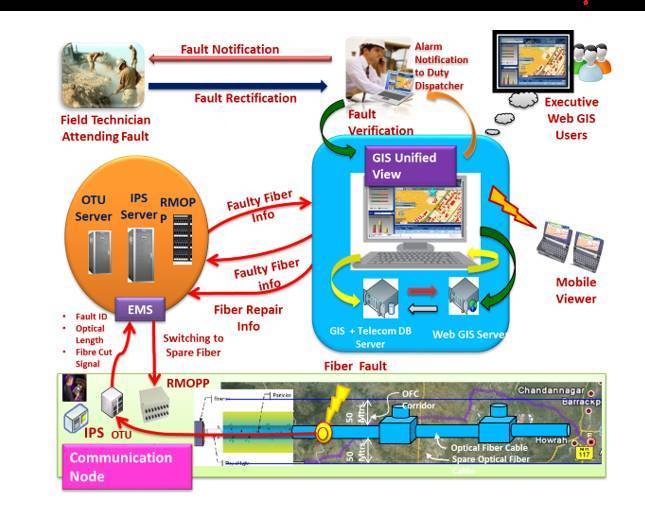 Once complete, it will be a world-class solution deploying technologies used for the very first time in India. It will further bolster the homeland data security of the defence network.